Segment makes it easy to send your data to Delighted (and lots of other destinations). Once you've tracked your data through our open source libraries we'll translate and route your data to Delighted in the format they understand. Learn more about how to use Delighted with Segment.
This destination is maintained by Delighted, you can contact them at hello@delighted.com with any questions or feature requests you might have.
Getting started
Once the Segment library is integrated with your service, sign in to your Delighted account and visit the Segment integration to setup the destination. Once you connect with Segment you will choose which 'track' events you'd like to use as triggers for surveys to be sent people. Optionally, you can also configure a Delighted Source to send feedback back to Segment.
Identify
When you .identify() a user with Segment, we'll pass that information to Delighted. The only trait that is required by Delighted is 'email'. Additional traits will be added to Delighted surveys as metadata (Delighted calls this metadata Properties) which you can use to segment feedback.
Track
When you call .track(), Delighted will check if you have configured your destination to send a survey based on that event. You can trigger a survey based on any .track() event you want. Be sure to enter the event name exactly as it appears in the Segment .track() call.
You can also specify a sample rate if you'd like to only trigger on a portion of those events. Finally, you can set an optional delay for Delighted to wait before sending the survey.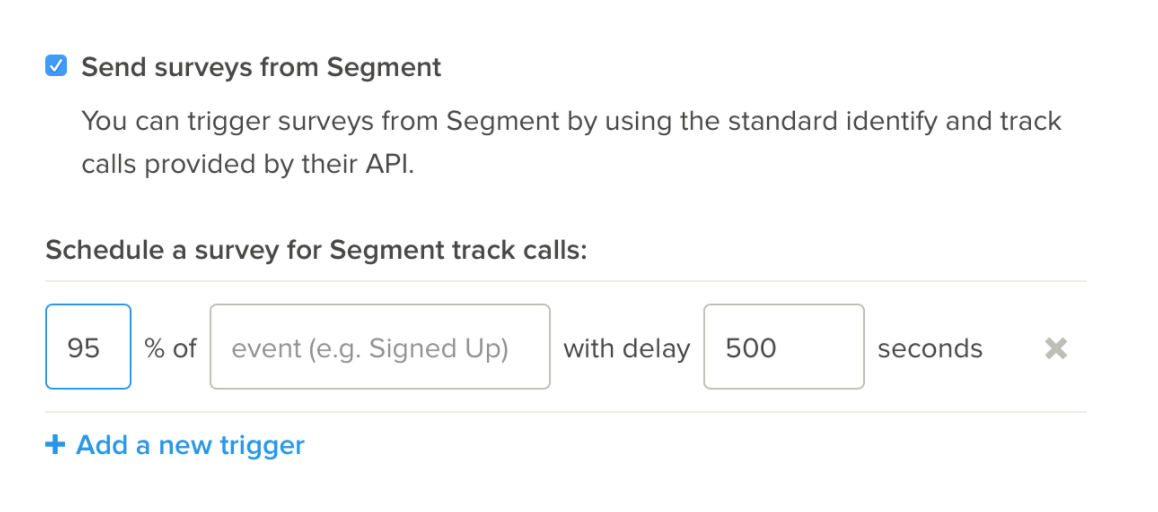 NOTE: Delighted has built in protections for over surveying called Survey Throttling. This will ensure the same person won't be surveyed more than once per month (adjustable in your Delighted account settings). Survey Throttling provides you peace of mind so that you can use frequent 'track' calls like purchase or contact events.
Sending data from Delighted back to Segment (optional)
You can optionally configure Delighted to send feedback from Delighted to Segment. This can be useful for data warehousing, forwarding to other services (such as email marketing automation tools), or performing further analysis with the BI tools you have connected to Segment.
Simply copy the 'Write Key' of the Segment Source where you want to send data and paste into the Delighted Segment integration page.
Delighted will then send all feedback triggered via the Segment integration into back into Segment. Please refer to our Delighted Source documentation for more information.
Features
Delighted's Segment integration supports all of the following features:
Trigger sending a survey based on 'track' calls you are sending to Segment
Configure survey rules to match specific 'track' calls. For example a 'purchase event' and a 'support ticket closed' event.
Add an optional delay, so that surveys will send after a specified delay. For example, if you are an ecommerce company, you might wish to add a delay to account for shipping time on an 'order_fulfilled' event.
Send to a sample of people by specifying a percentage of events for survey rules.
Sync Delighted feedback back to Segment for use in your data warehouses and BI tools
---
Personas
You can send computed traits and audiences generated through Segment Personas to this destination as a user property. To learn more about Personas, reach out for a demo.
For user-property destinations, an identify call will be sent to the destination for each user being added and removed. The property name will be the snake_cased version of the audience name you provide with a true/false value. For example, when a user first completes an order in the last 30 days, we will send an identify call with the property order_completed_last_30days: true, and when this user no longer satisfies we will set that value to false.
When the audience is first created an identify call is sent for every user in the audience. Subsequent syncs will only send updates for those users which were added or removed since the last sync.
Settings
Segment lets you change these destination settings via your Segment dashboard without having to touch any code.
API Key
To connect Delighted with Segment, all you need is your Delighted API Key
---
If you have any questions, or see anywhere we can improve our documentation, please let us know!