Segment makes it easy to send your data to Userlike (and lots of other destinations). Once you've tracked your data through our open source libraries we'll translate and route your data to Userlike in the format they understand. Learn more about how to use Userlike with Segment.
Our User Like destination code is all open-source on GitHub if you want to check it out.
Record Live Chat Events
With this destination, you can automatically record track events for live chat conversations. If you select this option, we'll collect the following events:
Live Chat Conversation Started
Live Chat Message Sent
Live Chat Message Received
These events will then flow out to your other tools, so you can do things like analyze if users who chat spend more money over time.
To learn more about the live chat events you can capture with this destination, head on over to our Live Chat spec docs.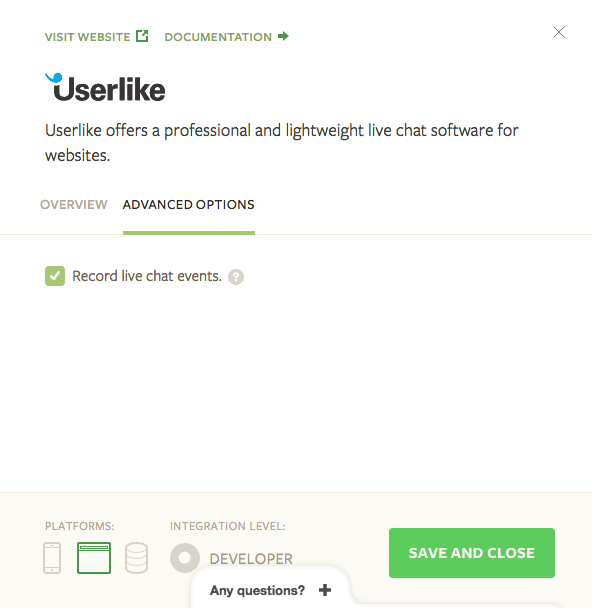 ---
Supported Sources and Connection Modes
| | Web | Mobile | Server |
| --- | --- | --- | --- |
| 📱 Device-based | ✅ | | |
| ☁️ Cloud-based | | | |
To learn more about about Connection Modes and what dictates which we support, see here.
Settings
Segment lets you change these destination settings via your Segment dashboard without having to touch any code.
Record live chat events.
Automatically send Live Chat message events, conversation starts and ends to other tools you have enabled.
Secret Key
Your Secret Key can be found under Config > Install > Secret. It should look something like 8a3707ab96df8354253c158a25f908b84dc655c27d5828a1a97d99f08bfba6f4.
---
If you have any questions, or see anywhere we can improve our documentation, please let us know!